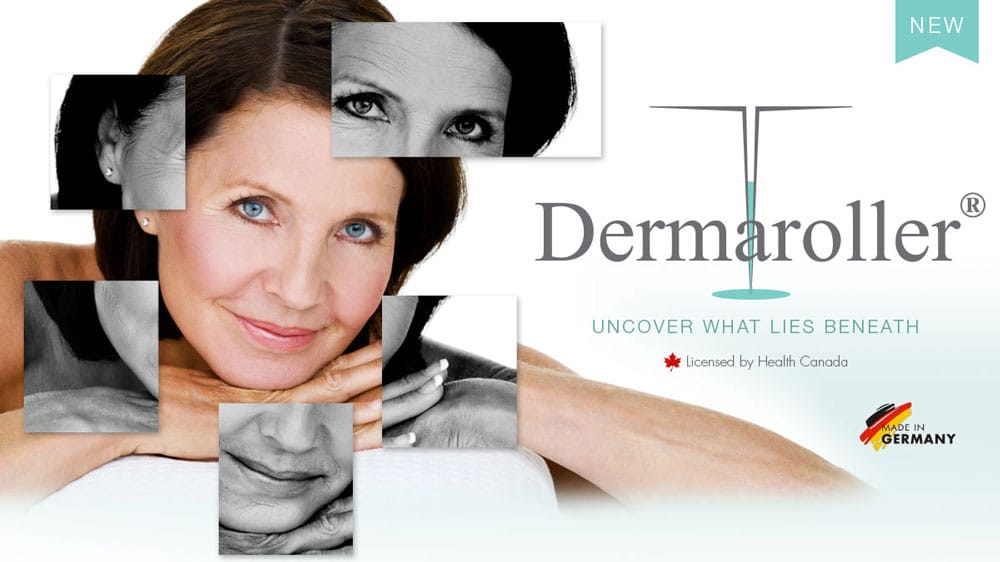 Promote skin repair and reduce the appearance of wrinkles, scars, stretch marks and other signs of aging with Dermaroller® Collagen Induction Therapy. Dermaroller® is licensed by Health Canada.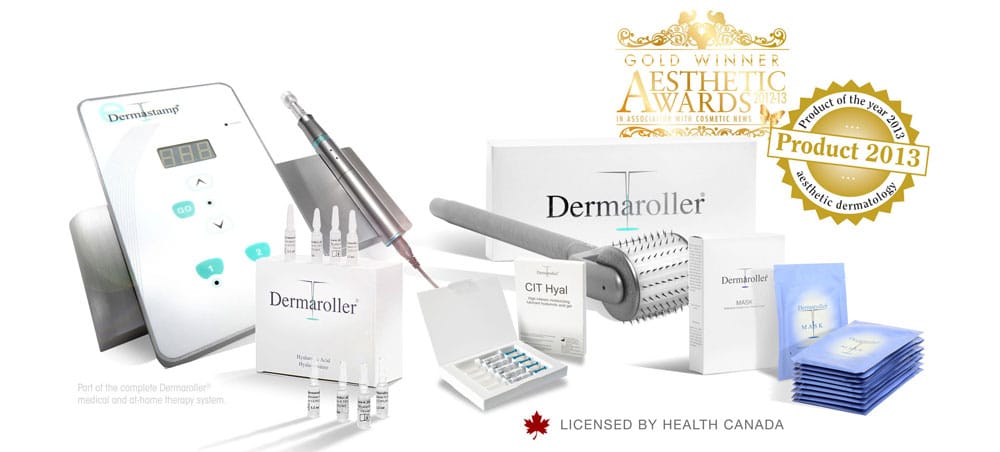 Scientific solution for the most common symptoms of aging.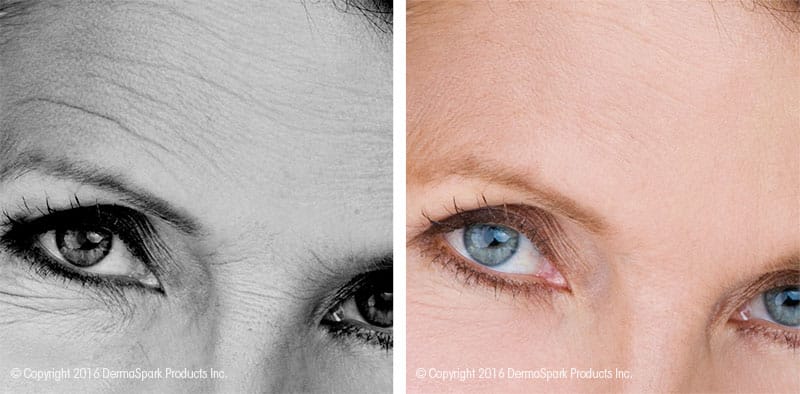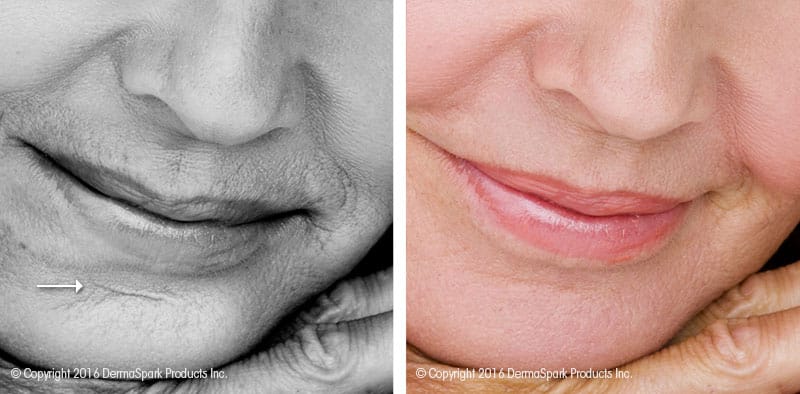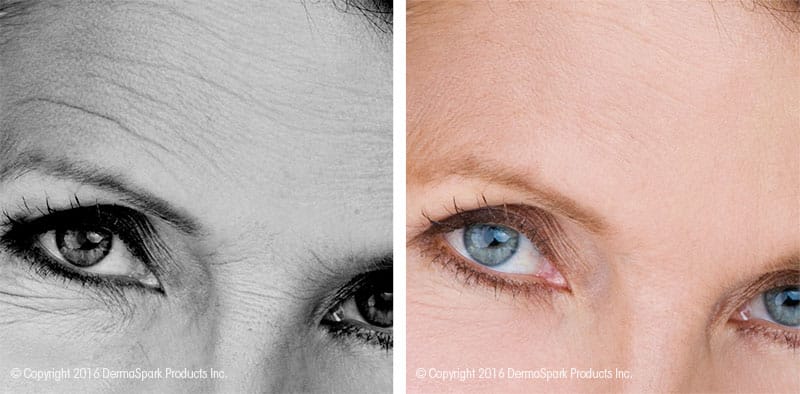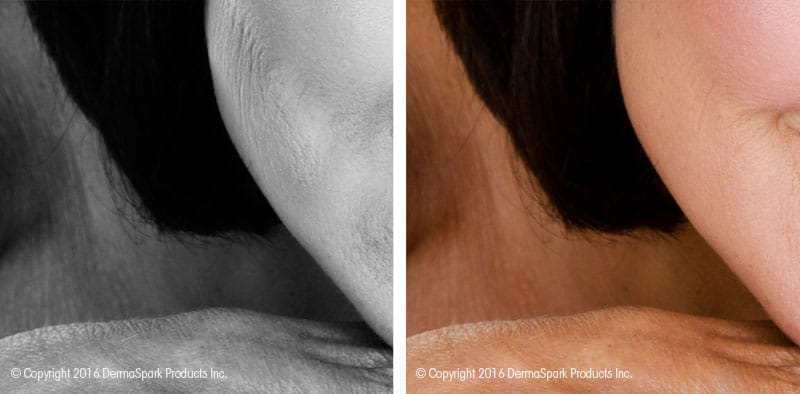 Collagen Induction Therapy (Mirco-Needling)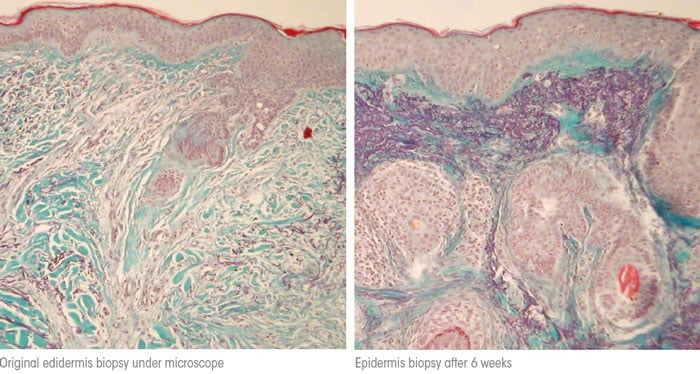 When it comes to minimally invasive treatments, Micro-needling Collagen Induction therapy with the Dermaroller® is clinically proven and is perhaps the most successful treatment available for the common signs and symptoms of aging such as wrinkles, loss of skin volume, and crepey skin. The Dermaroller® micro-needling treatment is even proven to minimize scars and stretch marks. Dermaroller® therapy triggers the body's spontaneous healing process, stimulating cell proliferation and causing the formation of new collagen. This results in a thicker, more supple, cellular matrix. Results: visibly younger-looking skin.
PROOF: The image shows a biopsy of the epidermis before and after micro-needling therapy. Significant new collagen (died purple) has been generated, 6 weeks after a single treatment.
The Dermaroller® causes minimally invasive precision micro-injuries of the epidermis and dermis, without causing open wounds or ablative damage. The puncturing channels close after a short time and these micro-injuries trigger the body's wound healing cascade, which induces an increased collagen production in the treated skin. Dermaroller® triggers the construction of new tissue by stimulating healthy cell regeneration in precision-targeted areas that show the signs of aging. It effectively reduces wrinkles, tightens and thickens the skin, and – perhaps most impressively – fills and smooths scars.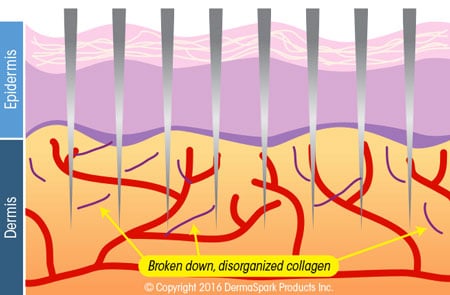 Dermaroller®'s surgical-grade micro-needles reach beyond the epidermis into the dermis, causing pin-point bleeding and triggering the body's spontaneous healing response.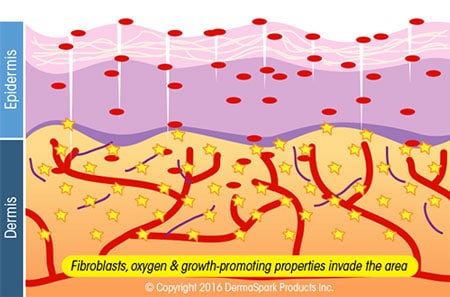 Within minutes, the perforation channels close and the healing cascade starts, invading the area with collagen-producing fibroblasts and growth-promoting properties.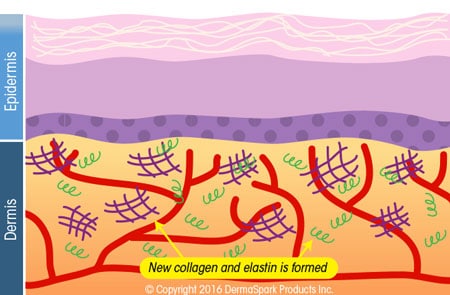 New organized collagen & elastin forms, bolstering from within, while the epidermis becomes thicker and more supple, each time a treatment is performed.
Beware of Imitations. Dermaroller® is the original device of it's kind. All other derma-rolling devices have been fashioned after the Dermaroller® and it's important to understand the differences.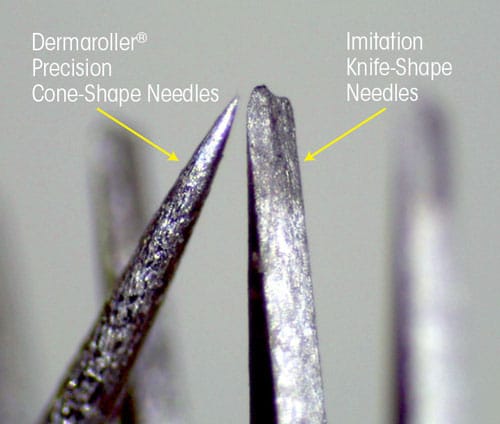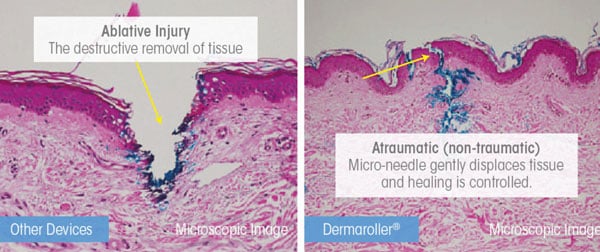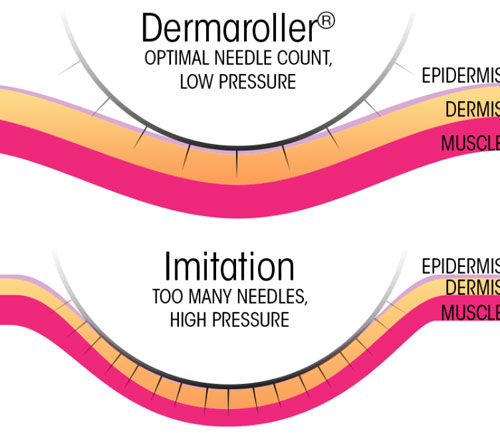 Dermaroller® Treatment Videos
eDermastamp & Dermaroller Introduction
About Collagen Induction Therapy
Step-by-step eDermastamp Treatment
Introduction to Home Care line
Drastically improve results, with Dermaroller® Home Care Products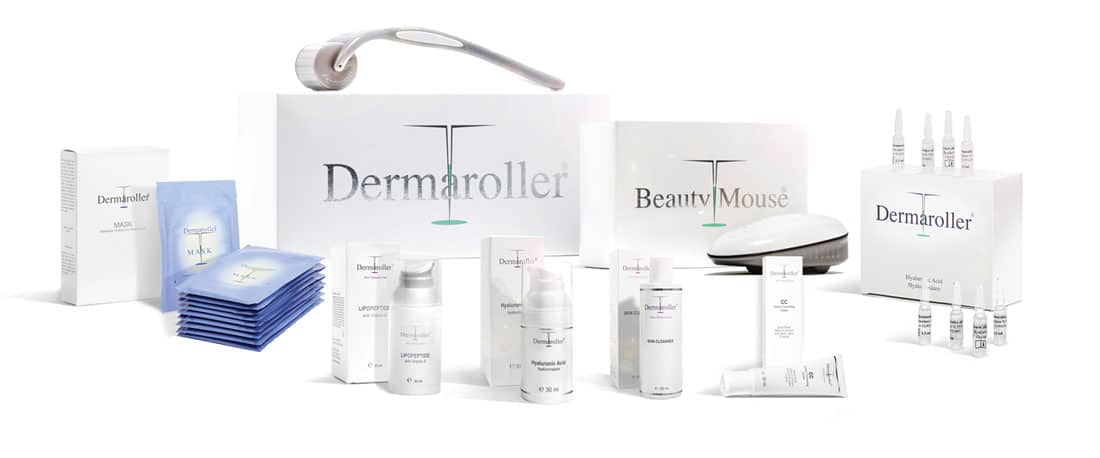 Dermaroller Home Care Products are designed for intermediate skin care at home, after a Professional Dermaroller treatment. Roll at home with the Dermaroller Home Care Roller (for the face, neck and décolletage) and the Dermaroller Beauty Mouse (for the body) to maximize the results of a Professional treatment.
The Dermaroller line of creams and serums are formulated with powerful anti-aging nutrients, like Hyaluronic Acid and Lipopeptides combined with vitamins A, C and E, which are essential for efficient and effective cell proliferation. They are specifically formulated for maximum absorption and to be gentle enough for use following a micro-needling treatment, where the skin barrier has been microscopically broken.
Dermaroller Home Care products are safe for use at home, and are sold exclusively through clinics that offer Dermaroller® Professional treatments.
Dermaroller is constantly innovating product formulations according to the latest in skin care science to deliver the skin care science best results!
Dermaroller Home Care Roller (For the face, neck & décolletage) & Beauty Mouse (For the belly, back, thighs and buttocks)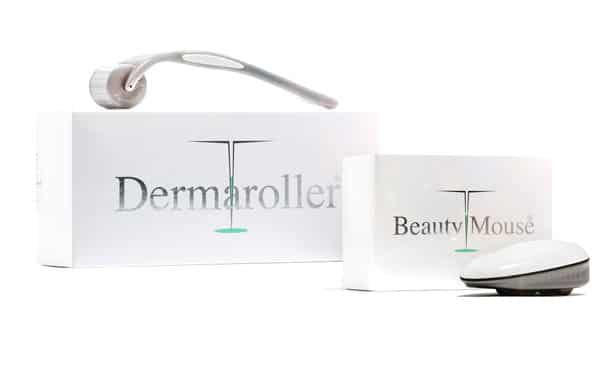 Maximize the results of your Professional Dermaroller treatment and reduce the signs of aging at home, with the Home Care Dermaroller. Treatment with Home Care Dermaroller® has an affect on many active skin layers of the Epidermis, and contributes to the generation of collagen types 6 and 7 which are found in the connective tissue between the Epidermis and Dermis. Safely and easily reduce wrinkles, improve hydration, and maximize absorption of the beneficial ingredients in the Dermaroller Home Care Line. Roll up to 3 times a week for up to one year with this roller.
The Beauty Mouse is a roller designed with more needles to treat larger areas of the body. Treat stretch marks, scars, and cellulite on your belly, back, thighs and buttocks.
Lipopeptide with Vitamin A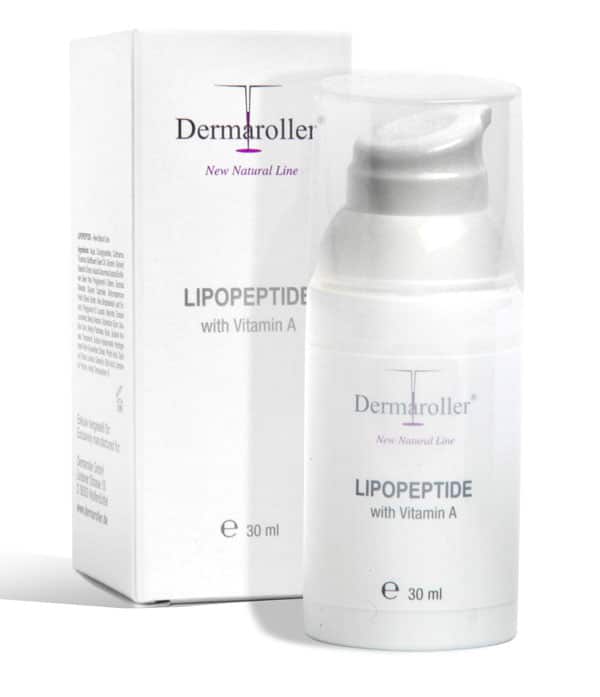 This night cream is formulated with peptides in combination with non allergic Retinyl Palmitate (vitamin A) to stimulate the cellular matrix, new collagen, and fibronectine. It reduces irritation and inflammation, while hydrating. Skin becomes more luminous while new collagen firms the skin and gives it a more youthful elasticity.
Hyaluronic Acid (ampules/dispenser)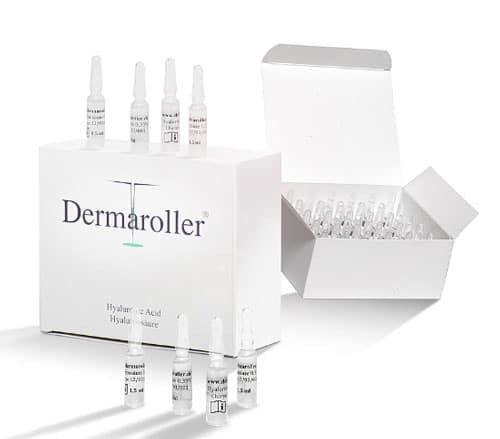 Dermaroller Hyaluronic acid is perfectly formulated to support the natural moisture of the skin. It binds with water that fills spaces between collagen fibres, keeping them resilient and elastic, while stimulating the proliferation of collagen and elastin. Reduce wrinkles and expect younger looking skin — smoother, brighter, fresher, and with renewed volume and all-day moisture.
This product is available in ampules (30 ampules, 1.5ml each) as shown, or in a 30ml dispenser.
Moisturizer ACE with Vitamins A, C & E

This day cream moisturizes while reducing trans-epidermal water loss, supporting your skin to retain it's own natural moisture. After rolling, it infuses your skin with antioxidants, vitamins, and minerals that are essential in promoting fast and effective skin-cell proliferation. The result? Your skin appears enriched and deeply hydrated, strong and firm, smooth and luminous! With continued use as part of the home care system, you will visibly reduce the signs of aging.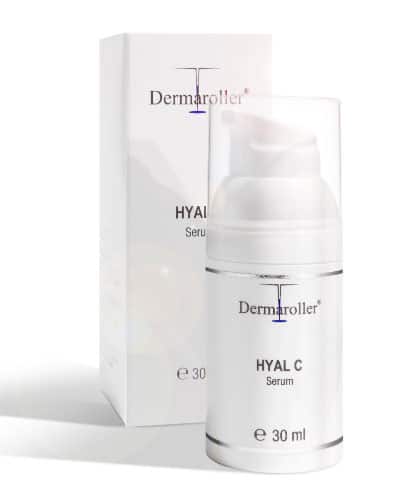 Hyal C Serum is an intensive moisturizing serum with hyaluronic acid and vitamin C that leaves your skin deeply hydrated (not oily), while reducing inflammation and minimizing the effects of aging. The formula is made up of smaller molecules that can penetrate deeply into the skin after rolling and deliver a very high concentration of active ingredients that boost the formation of collagen, improve elasticity, and leave your skin looking firmer and tighter and feeling silky-smooth.
CC Cream (Colour Correcting) with Snail Slime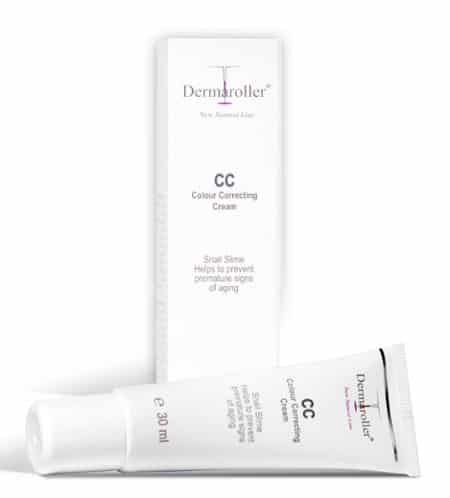 Dermaroller CC (Colour Correcting) Cream instantly color-corrects and blurs flaws, leaving skin illuminated and bright. It contains color-neutralizing shades to target every skin concern. This exclusive formula contains snail filtrate, a naturally potent formula that is shown to stimulate collagen and elastin, promote healing, and protect skin from free radicals while deeply hydrating. Use Dermaroller CC Cream as a foundation and to retouching a flawless makeup application.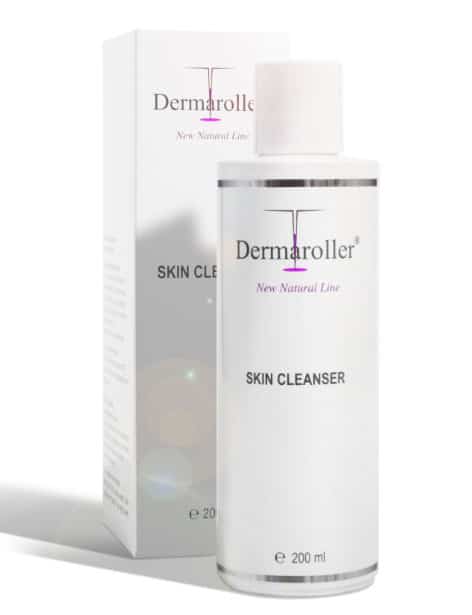 This gentle cleanser is specially formulated for use after Dermaroller Professional and Home Care treatments, when the skin is left with microscopic opens and is, therefore, more sensitive. It is rich in vitamin C and antioxidants. It gently cleans while thoroughly removing pore-clogging oil, dirt and impurities and improves the complexion for fresh and clear skin.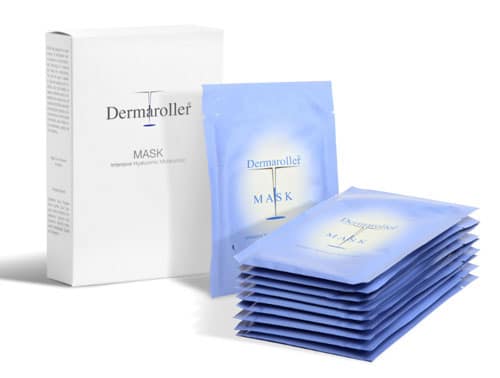 Want intense moisturizing? The hyluronic moisturizing mask is made of silk, soaked in ultra-moisturizing Hyaluronan and Matrixyl peptides that steadily release a transformative serum to re-establish skin moisture and and nourish the skin. The mask is specifically designed for rapid recovery of dehydrated skin. It's highly recommended after your Professional Dermaroller treatment, as well as after any abrasive treatment such as laser, dermabrasion, and peel treatments. And NOW you can take this luxurious mask home!