Ottawa hair growth treatments for the Loss of hair volume, Thinning hair, Genetic hair loss, Bald spots, Alopecia,
Male pattern baldness, Female pattern baldness, Aging Scalp and more...
Hair Growth and Rejuvenation
Prevent and minimize hair loss, receding hair line and bald spots by stimulating and rejuvenating hair growth with our scalp repair and vitamin enriched hair treatment which is Health Canada licensed and approved – eDermastamp and XcellarisPro! The latest in Ottawa hair growth treatment!
Ottawa Hair growth Repair and Vitamin Treatment
Who hasn't had a hair loss scare? All of us, at some point, start to fear that we might be losing too much hair. While most of the time it's just a false alarm, and our hair's routine shedding, in some cases, it is more than that.
What are some types of hair loss?
Genetic hair loss – or the thinning hair.
Alopecia Areata – Small round patches of missing hair, or complete hair loss.
Telogen Effluvium – This is when hair follicle stops producing hair.
What could be causing unexpected hair loss?
Natural aging of the tissue on the scalp
Diet and nutrition & Nutrient deficiencies
Harmful chemicals used for hair styling
Sun exposure and pollution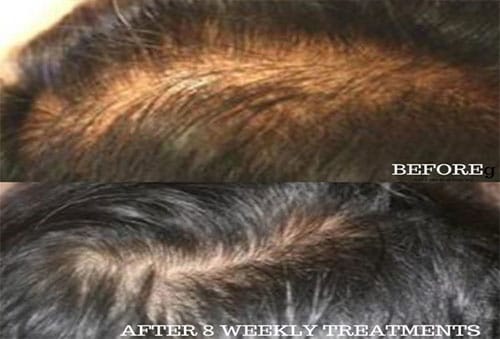 But the #1 factor for hair loss is – genes. Our hereditary imbalanced hormonal activity in our hair follicles causes our hair to shed and fall out.
The good news is that our ongoing loss of nutrients that support hormonal balance to the hair follicles can be restored to ensure healthy function if treated in time. Hair growth triggered with eDermastamp and XcellarisPro (A Health Canada approved technology – and approved product!) have been successful and proven to work to stop hair loss and reverse its effects by stimulating your hair follicles. This process energizes and rehabilitates the scalp to encourage thicker, fuller-looking hair.
At NakotaDay Spa, it is our top priority to ensure our clients get the results they are looking for, in a manner that looks truly genuine and natural.
With age, our hair tends to thin and shed at an undesirable rate. When combined, the eDermastamp and XcellarisPro system can help slow down hair loss, stimulate hair growth AND strengthen hair roots improving your self-image and help restore your confidence.
We first disinfect the scalp, comb to remove loose hair, use the eDermastampdermaroller and then add the XcellarisPro lotion to the scalp.
So how does eDermastamp and XcellarisPro work?
The treatment blocks the formation of Dihydrotestosterone (or DHT) within hair follicles
Re-anchors the hair follicle with its roots
It replenishes micro-circulation that brings oxygen and nutrients to the roots
It supplies all the nutrients, vitamins and proteins required for healthy hair function
It makes sure the skin tissue around the follicle is healthy and functioning properly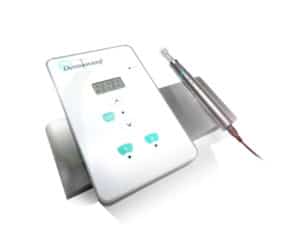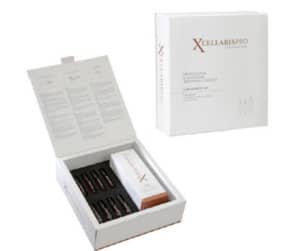 How long is the treatment?
Duration of a treatment is typically lasting around 30 minutes to 1 hour each depending on the area being treated. In order for the treatment to be successful, it requires professional and home maintenance. In combination, the before and after eDermastamp and XcellarisProHome treatment plan ensures long-term results.
With a professional treatment, there is a commitment of one session per week for8 weeksin-clinic while simultaneously following a home care regime 4 times a week, that can be continued after the 8 weeks are over. And while the clinic treatment is absolutely essential in getting things started, home care is designed to promote the absorption of healthy vitamins and minerals into the scalp.
The XcellProHome Treatment protocolfocuses on the absorption of essential vitamins and minerals that promote blood flow and regeneration of hair. All of the home-care products are 100% natural and paraben-free.
Nakota Day Spa will provide the eDermastamp®Homecare System that includes the XcellProHome treatment lotion to be applied nightly – at no additional cost. This is all part of the overall treatment to provide stimulus and nutrients to the skin.
Our clients have loved the results from the eDermastamp and XcellarisPro treatments!
At Nakota Day Spa (home of the Ottawa hair growth treatments), we strive to provide our clients with the comfort and care they deserve to address all their aesthetic goals. We are fully-equipped with the latest tools and technology to perform non-surgical cosmetic treatments, restorative and rejuventating skin care treatments to improve the health and vitality of your skin and hair.
Thinning hair is triggered by stress, damaging hairstyling tools, a bad lifestyle, medicines and diseases and genetics.
Overtime, the pores in your scalp gets blocked with dust, pollution, and dead skin cells. At Nakota Day Spa our eDermastamp and XcellarisPro treatments unclogs the roots, increasing blood circulation to the skin enabling the scalp to absorb nutrients better.
If you used to have strong and healthy hair that is thinning fast, call us and book an eDermastamp and XcellarisPro treatment. Our system will improve blood flow and stimulate hair growth back to your scalp in 8 weeks!
Male Pattern Baldness and Female Pattern Baldness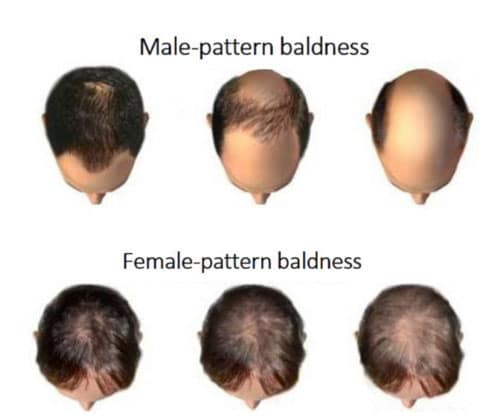 Noticeable hair loss in can be deeply distressing. Both men and women experience hair loss (alopecia) at some time in their lives and can severely affect one's emotional well-being and quality of life.The main type of hair loss is called androgenetic alopecia, or female (or male) pattern hair loss.
In men, hair loss usually begins above the temples, and the receding hairline eventually forms a characteristic "M" shape; hair at the top of the head also thins, often progressing to baldness.
In women, androgenetic alopecia begins with gradual thinning at the part line, followed by increasing diffuse hair loss radiating from the top of the head. (A woman's hairline rarely recedes, and women rarely become bald.)
There are many potential causes of hair loss, including medical conditions, medications, environmental and physical or emotional stress.
The Ottawa hair growth treatments by Nakota Day Spa offers non-surgical medical hair therapy program may be for you. Our program can help to stop hair loss and regrow your own hair with guaranteed results!
It's normal to lose about 50–100 hairs a day, but if you're experiencing more than that or noticing patches of thinning hair or baldness, it may be the beginning stages of hair loss. Although hereditary hair loss is the most common type – another type of hair loss, alopecia areata is on the rise.
Researchers believe alopecia areata is an autoimmune disease where the body attacks its own hair. This causes smooth, round patches of hair loss on the scalpand other areas of the body. After some time, most people see their hair regrow on it's own, but at Nakota Day Spa,we treat people with this disorder to help the hair regrow more quickly – in 8 weeks in fact!
Our clients have seen positive results from our eDermastamp and Xcellaris Pro treatments that are life changing.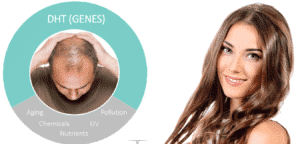 Hair loss in men and women can be frustrating and embarrassing, even though it affects a huge part of the population. Thankfully, there are options, like eDermastamp and XcellarisPro treatments – an exciting, non-surgical option for people suffering from hair loss, thinning hair, pattern baldness, and even alopecia in some cases – now offered at Nakota Day Spa!Hair growth triggered with eDermastamp and XcellarisPro (A Health Canada approved technology – and approved product!) has been successful and proven to work to stop hair loss and reverse its effects by stimulating your hair follicles. This process energizes and rehabilitates the scalp to encourage thicker, fuller-looking hair.
What are the beneifits of eDermastamp and XcellarisPro?
Affordable
Effective
Minimal downtime
Minimal discomfort
Safe for all skin types