" When A Flower Doesn't Bloom You Fix The Environment In Which It Blooms, Not The Flower"
Alexander Den Heijer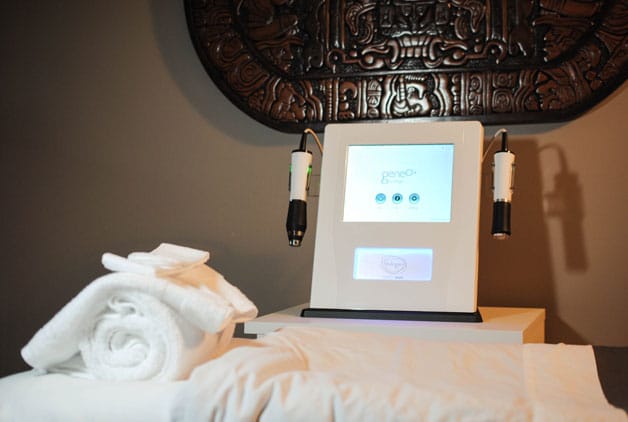 OXYGENEO™ 3 in 1 Facial is inspired by the renowned healing powers of natural hot springs. Hot springs are known for their high concentration of carbon dioxide that helps stimulate oxygenation of the skin.
By simulating this phenomenon, OxyGeneo triggers a body response that sends oxygen to the treated area. At the same time OxyGeneo exfoliates the skin and creates an optimal environment for infusion of essential nutrients both during and after treatment. The OxyGeneo effect saves time by performing all 3 actions simultaneously.
Key Treatment Benefits of OxyGeneo
3 in 1 ideal facial treatment
Suitable for all skin tones
Immediate peeling and skin tone brightening, delivering a radiant, glowing and firmed complexion
Oxygen Therapy for cellular improvement
Innovative patented oxygenation technology and approach
Fast and effective treatment for special events
Natural skin oxygenation on a regular basis results in long lasting results
Personalized and single-use components for maximum hygiene
Ideal as both a both a stand-alone skin revitalization treatment and integrated into other aesthetic regimens
Similar to microdermabrasion, the OxyGeneo™ exfoliates the upper skin layer to remove dead cells, smooth and renew the skin, preparing it to receive active nutrients. The OxyGeneoâ"¢ is safe on all skin tones and can treat sensitive skin without any irritation.
Through our exclusive Capsugen, the OxyGeneo™cleanses the skin while infusing nutrient-rich active ingredients. You choose between the NeoRevive™ for rejuvenation and anti-aging or NeoBright™ for skin brightening and texture improvement.
The OxyGeneo™ produces CO2 bubbles which gently burst on the skin surface creating a physiological response, sending oxygen-rich blood to the area, increasing capillary flow and skin metabolism. Oxygenation results in optimal absorption of active ingredients.
NeoBright reduces skin pigmentation and sun damage while lightening the skin's complexion.
Azelaic Acid = Even Pigmentation
Azelaic Acid is a well-known agent that is used to treat skin hyperpigmentation conditions that decreases the activity of pigment-producing cells.
Kojic Acid = Skin Lightening
Kojic Acid is a naturally occurring agent produced by fungi which inhibits Melanin production. When combined with Azelaic acid, there is a synergistic lightening and bleaching effect.
Retinol = Anti-Aging
A derivative of Vitamin A, Retinol has been clinically proven to increase collagen and skin cell production. It is also known as one of the best anti-aging solutions.
NeoRevivesmooths the appearance of fine lines and wrinkles, and revitalizes the dull complexion.
Hyaluronic acid = Wrinkle Reduction
Naturally produced by the body and responsible for fluid retention and skin moisturizing, as we age, the body's capacity to produce Hyaluronic Acid decreases. This results in thinner, dryer and wrinkled skin. By infusing Hyaluronic acid, the skin is able to regain lost moisture and volume, thereby reducing wrinkles.
Peptides = Skin Repair
Peptides are small protein fragments which strengthen the skin's ability to retain fluids. Combined with Hyaluronic Acid, a synergetic effect of dermal repair is created.
Retinol = Collegen Renewal
A derivative of vitamin A, Retinol has been clinically provide to increase collagen and skin cell production. It is known as one of the best anti-wrinkle solutions.